Australian Winemakers have developed an excellent position at the top end of the World's wine market. Local Winemakers use sophisticated processing techniques and skills to be matched, which include oak maturing using barrels from the finest French cooperages.
Ingrid Brand is the Managing Director of OAKIN Pty Ltd (formerly Ausexpo Pty Ltd), based in Sydney. Oakin has a long-standing relation with the Australian wine industry. "We have been exporting Australian wines into the German market for well known winemakers from the Hunter Valley, South and Western Australia through our Munich based company Australian Imports. Hence, we know what the market wants", says Ingrid. 1994, Ingrid decided to migrate to Australia. "I like the climate – in two senses, the weather is just great, but the climate in terms of the way people relate to each other is what I like most".
Having been associated with the Australian wine industry for so long brought Ingrid back to the roots. "Australian wine has gained international recognition and is targeting further the top end of the market. This requires very specific skills, excellent knowledge about processing top class wines and access to world markets. Not too long ago, Australian wine was looked upon as "somewhat rough and not very sophisticated". That has changed extensively. Australian winemakers are now using very sophisticated technologies combined with traditional treatment to ensure best performing products. The consumer is changing as well; not only factors such as changes in lifestyle or the increased consciousness to health; rather most people become more educated and appreciate good wine. Hence value for money or – quality before quantity – is appreciated.
The Australian wine industry is well positioned to capture a large share of this market. The wine industry takes advantage of the availability of high quality grapes and good yields. This provides the winemakers with excellent material to ensure consistent quality. An essential part of the production process for top class wines is the oak treatment. "It seems obvious that this is an area where we can contribute", Ingrid says. "We select only top French oak products with a reputation to provide consistent quality French oak products, which is known under the brand name of OAKIN in the industry".
Since October 1997 OAKIN has been importing oak products from France. Selected cooperages are providing top quality oak maturing products such as from Tonnellerie ALLARY Established in 1953, the cooperage is situated 100 km north of Bordeaux.
Ensuring that coopers are equipped with the facilities and know-how for export is one of the qualification factors to meet OAKIN quality requirements.
"Barrel making is an art", says Ingrid. "many wine lovers like the subtle taste of oak matured wines, but most don't know what efforts the winemakers invest to produce award winning wines".
The selection process is one of the main issues. Like in grape growing, the region and the weather pattern play a major role. Secondly, not all parts of the timber are equally well suitable for barrel production. Regularly chemical analysis of the oak to ensure consistent quality is being exercised. This complements the constant monitoring to predict top results.
The oak is naturally dried, and splitting all staves is a must; the natural surface ensures all staves to sit tightly together. An important factor often overlooked in the fabrication of barrels is the fire. Only the best coopers are able to unlock the secret of the marriage between the wood and the warmth of the fire. This is what makes the difference of the aromas needed to produce excellent wine in French oak casks.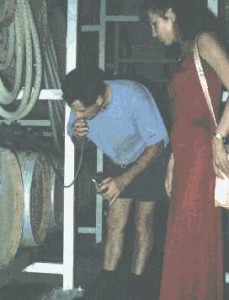 The way to excellence is long. "In the past, many winemakers used to import barrels themselves", says Ingrid. But activities such as information acquisition, quality assessment, availability, order processing and optimising freight, import and delivery process is a matter of experience and work, which winemakers should not be burdened with. "Outsourcing to specialists will help to focus on what the winemakers can do best", believes Ingrid. "We run our business with almost no overheads – lean, focused and dedicated".
Delivery on time, chasing freight forwarders and the handling of all exchange-rate risks is no easy business. "I have experienced overwhelming support from Australian winemakers for my approach", Ingrid says. All barrels are wrapped with plastic film and the barrels are delivered "ready to use". Among the product range are 225 L Bordeaux barrels, 228 L Burgundy barrels or 300 L Hogshead barrels. All oak is air dried for at least 2 years.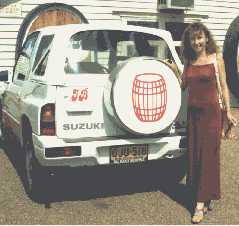 Partnership and the dedication to the industry are what make it happen.
Even selling is a service, which requires a lot of patience and skill. Finally, personal relations make the difference. "I know most of the winemakers personally and, I enjoy participating in winemaking", says Ingrid. She spends a lot of time visiting vineyards, and – you can hardly overlook when she is seeing her customers (see photograph).
"And last but not least, I like the taste of oak matured Australian wine – naturally…".