Large French oak barrels made in France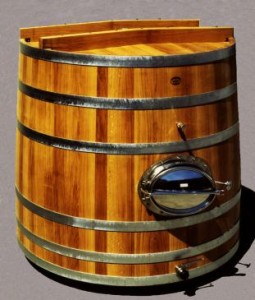 Large barrels made in France by coopers with the experience and expertise to produce large barrels for the sophisticated winemaker.
We uses only 24-36 months air-dried staves from its own storage facilities in France.
Large volume oak barrels are suited for top quality wines, which generate more subtle and integrated flavours.
The extended length of the maturing process allows the wine to develop better complexity without being "over oaked" (due to the reduced surface exposed to the wine compared to standard size wine barrels).
2000L/3000L/6000L
Large barrels provide easy access to the inside for maintenance and provide extended lifespan.
All fittings are high grade stainless steel which can be selected to suit special application.
All barrels come with 2 bases in wood (height 25cm)
Toasting
Medium (MT), Medium Plus (MT+), Heavy Toasted (HT)
1 round hatch (50cm) fixed on the upper head
1 oval door (33x44cm) fixed on front of the barrels
1 tap (40mm)
1 wine taster
Product Range / Dimensions
| Type | Hight | Upper | Bottom | Thickness | Manufacturing/ Delivery |
| --- | --- | --- | --- | --- | --- |
| 2000L | 150cm | 140cm | 159cm | 4cm | 3-4months |
| 3000L | 163cm | 159cm | 177cm | 4cm | 3-4months |
| 6000L | 215cm | 200cm | 223cm | 4cm | 3-4months |