OAKINStaves Tank Inserts are made from premium French Oak Air-dried naturally for 12 – 24 months and are available in medium plus toasting.
The unique toasting procedure – using open oak fire treatment till toasted through the thickness of the whole stave – is allowing 100% of the oak to work on the maturing process.
The oak is very gentle on the wine. The oak is integrating well into the wine and is developing very smooth and delicate flavours and generates results, which usually can only be achieved in new barrels.
Usage recommendations
White wine:
– During fermentation for up to 3 months. During this time the wine temperature is usually higher and the extraction is intensified; thereafter the wine should be filtered and left settling in tanks.
– After fermentation for 3 months up to one year, depending on the structure of the wine and the desired effect.
Red wine:
Effect of the oak on the wine
Good flavours should be noticeable after 3 months and will intensify during the following months. If used at more than the ratio of a 225L barrel, the process can be shortened considerably. However, for optimising the flavours the staves should not pass the ratio of a barrel, but can be continued for as long as a year. It allows a slower oxidation of the wine tannins integrating with the oak tannins and should contribute to a more subdued and integrated development of the flavours.
Price performance for OAKINStaves
Recommended usage is 1 piece per 20 Litres, which provides a price performance efficiency of 7 to 15 times compared with 225L barrels.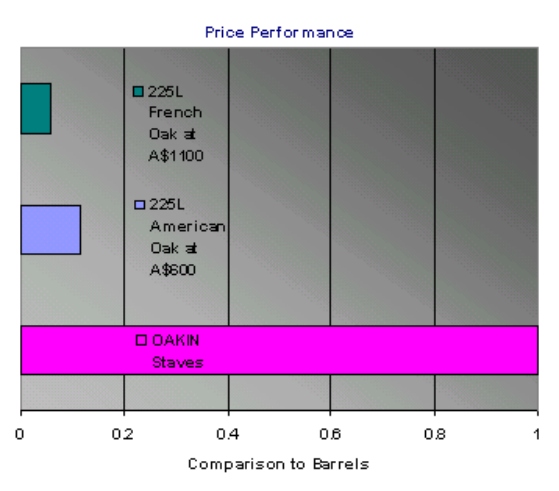 Installation & dimension
OAKINStaves are available in 100 pieces per pack. All staves come with a hole at each end for easy installation using stainless rod mounting (not provided).
Dimension (approx.): length: 920mm, width: 65mm, thickness: 10mm