Description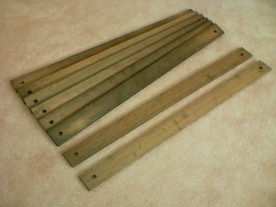 OakinStave Tank Inserts are made from premium French Oak Air-dried naturally for 12 – 24 months and are available in medium plus toasting.
The unique toasting procedure – using open oak fire treatment till toasted through the thickness of the whole stave – is allowing 100% of the oak to work on the maturing process. Usage 10 pieces per 200L
Toasting: MT/MT+
Installation & dimension
OAKINStaves are available in 100 pieces per pack. All staves come with a hole at each end for easy installation using stainless rod mounting (not provided).
Dimension (approx.): length: 920mm, width: 65mm, thickness: 10mm